Hi guys, first DIY I've had in a while and I can't really find any solid guide on how it was done so I winged it best I could based on what I read and this is what I came up with. Here's a couple pictures to show the VT TB and the Elantra TB side by side. VT TB on the left and Elantra TB on the right.
Now you may be wondering, "why would I want to do this?" Well ya little goofy toucan, because a larger throttle body means more air flow which means better throttle response, better power band, and more power.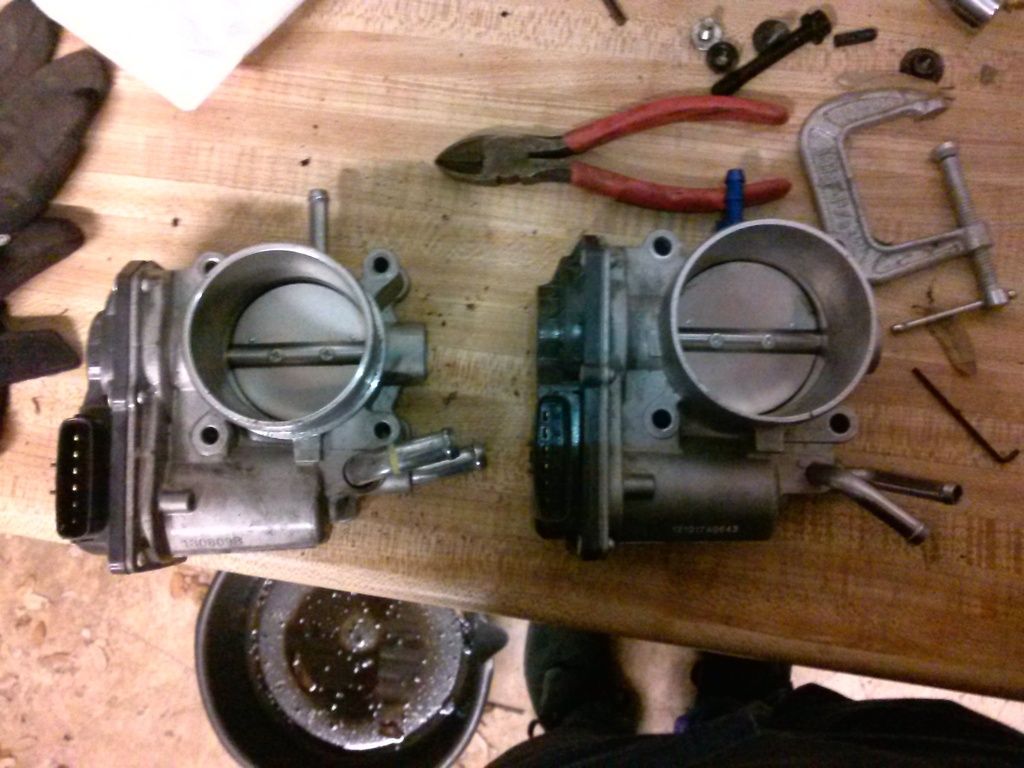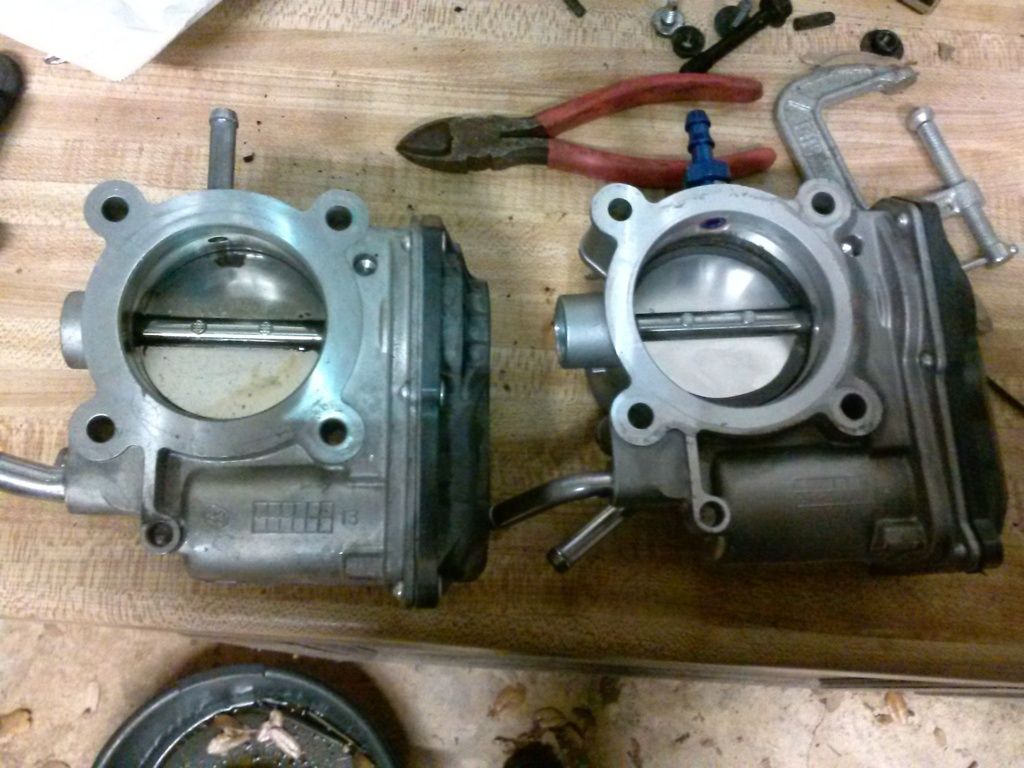 Parts you will need:

1/2" hose coupler - You can find these at your local hardware store for about $1.50 or so. They look like THIS.
1/2" hose clamps x2 - Also found at your local hardware store. Buy two of them.
1/8" NPT to 1/4"hose barb - I bought mine from Summit Racing but you can buy them from Ebay and Amazon as well.
2.5" to 2.75" coupler - I bought mine from Mishimoto through Ebay. 2.5" to 2.75" coupler
Elantra throttle body - Make sure you get one from a 2011 or newer Elantra. If it's any older than that, it won't work. If you're not sure, just buy one that looks identical to the one in this guide lol
Teflon tape or gasket maker or locktite or anything that can seal up threads. I went with gasket maker because it's all I had at the time.
Tools you will need:

Drill
Tap and die set
Beer
Whiskey (required)
Patience (recommended)
Step 1: Take your Elantra TB and clean it up a bit. Chances are the junk yard or whoever was selling it didn't do this so you may as well get it done while it's sitting out.
Step 2: This is the part where I got scared I'd screw it up. Drill out this point on the Elantra TB and tap it to fit the hose barb. I'm not sure if all hose barbs are the same size or not, but I drilled it out using a 1/4" bit and then went up to 3/8" from there and then tapped it.
After that, put the teflon tape or gasket maker or locktite, whatever you used, on the threads and screw in the hose barb. You may want to shave off the extra threads that stick through the other side, but I'll leave that up to the owner.
It should come out looking somewhat like this:
Step 3: Open the hood and take off your intake so you have plenty of room to work. If you can't figure out how to do that, then return the TB to sender and get your money back.
Step 4: You can skip this step if you want, but if you want to make it easier on yourself so that you don't have to resort to using the whiskey tool, take off the cold pipe so that you have enough room to remove the throttle body and install the new one easily.
Step 5: Disconnect the evap line on top and the plug on the side. Unbolt the throttle body and pull it away from the intake manifold.
Step 6: Have your 1/2" coupler, your 1/2" hose clamps, vice grips and a flat head screwdriver ready for this part because this all has to be done with one hand. Reason? To fap with the other hand at how awesome you are. No but really, it's because you have to hold up the coolant lines to keep a minimum amount of coolant from leaking out. Disconnect the two coolant lines from the throttle body and try to keep them elevated to prevent spilling coolant.
Step 7: Slip the two half inch hose clamps onto the hoses and connect them together with the 1/2" coupler. After both hoses are on the coupler you can let go because no coolant will leak... obviously. Tighten the clamps down on the coupler and take a shot of whiskey because you just made it through the most aggravating part of this whole mod. It should come out looking like this when you're done:

Information time yaaaay


What you just did is called a coolant bypass mod. The reason the coolant runs through the throttle body is to keep the throttle body from freezing up in colder climates where temperatures hit well below freezing. Making the boiling hot coolant bypass the throttle body will decrease IAT's. It's not by very much because air passes through the throttle body so quickly but all the little stuff does add up. Don't expect massive performance gains from doing this part. If you live further north, then you're basically screwed because the barbs for the coolant on the Elantra TB are much smaller than the VT TB. Do not do this mod if you live where you get a lot of snow.




​
Step 8: Bolt up your brand new, used, TB and plug everything back in just as it went on the VT TB... except for the coolant lines, obviously. If you want, you can beat the living sh*t out of the two barbs on the Elantra TB until they fall off because you wont need them anyways and they're ugly just like your ex-girlfriend. Take another shot because you f*cking deserve it you sexy beast.
Step 9: Re-install your cold pipe if you took it off and use the new 2.5" - 2.75" coupler you bought. Whatever clamps you were using before will work on the larger size throttle body. Re-install the intake and you're done. When it's all said and done it will looka like-a sooo:
F*ckign beautiful, just like all of you people. You can reset the ECU if you'd like after finishing, or you can be like me and not give two sh*ts, but I'll leave that up to the owners discretion.