Discussion Starter
·
#1
·
Looking through the ETM through the factory service site, I thought there'll be wirings existing from the floor harness all the way to the smart junction box that runs to the back of the head unit. Well, I got one part right. There is wiring on the back of the head unit for sure for the backup camera:
The blue, black with red, red, and orange wires are the wiring for the factory backup camera. Red is camera power, blue is ground, orange is video out, and black/red is video ground. Pins # 10, 12, 22, 24.
However, when I took all the interior panels off of the rear driver's side, and disconnected the roof to floor harness plug, it's pretty obvious that the same wiring does not exist. It's too bad, I've got the camera harness all stripped and ready to go: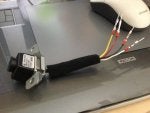 I did find this odd harness with NOTHING attached to it. 6 wires in a 8 pin harness.
Colors of the wires do not correspond to any of the wires on the back-up camera circuitry. The only thing I can think of, for the location of the harness, is that it's for the parking sonars.
At this point, I think my best bet is to route the wires directly to the back end of the smart junction box near the driver's foot-well. If the wiring exists behind the head-unit, it has to exist at the junction box as well.