I just need a review of my wiring and any recommendations before I start my project. So far all I have done is Power and Ground my after market amp.For this project I have opted to use a PAC LP7-2 and plan on tapping into harness C (rear speakers) of the factory amp (Pink, Green, Brown & White wires). Such as this pic I have found from a past thread.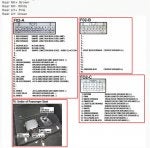 The PAC unit, I plan on cutting the RCA cables from the input side of the LP7-2 (L-side on pic) and plugging them into the R-hand side of the LP7-2. The L-hand side of the unit will then be connected to factory amp wires (Pink, Green, Brown, and White). The R-hand side of the LP7-2 (with the now cut and reconnected RCA cables) will then be connected to the "speaker level input" on the after market amp.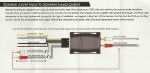 So far does this seem like its the correct way to connect an after market amp into a factory amp? I have also read that it would be wise to disconnect the factory subwoofer when installing an aftermarket amp....Does anyone have any insight on this idea?Here is a visual for my project.